Team Development
The performance of your teams, especially your leadership teams, is critical to the success of your organization. You need people on your teams who are able and willing to work autonomously and yet cooperate for the greater good of the team and the organization. There are many approaches to building good teams, including off-site retreats, ongoing consultation, and developmental conversations with your group and individual team members.
One of my favorite success tools is a powerful framework developed by Patrick Lencioni called The Five Behaviors of a Cohesive Team.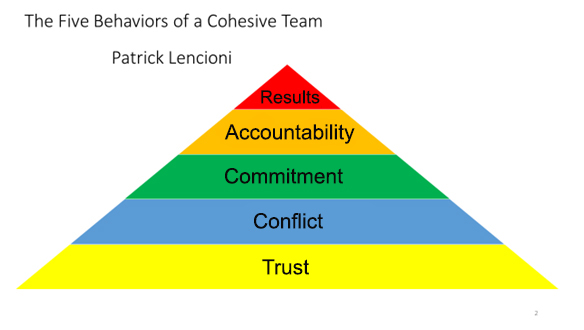 There are a number of instruments that can be used to build the foundations of trust and team cohesion and I like to use DiSC, MBTI, or Strengths Finder to facilitate the growth of your team. Please contact me for a consultation on the best strategy for your team development needs.
Free Session offer: Get More From your Team
If you want to get better performance out of your team for any of these reasons:
Because the number of people on your team has been reduced and yet you're expected to produce the same or better results.
Your team is not producing the results that are expected from you, your manager, and organizational leaders.
Members of your team are undermining each other or worse undermining you, causing conflicts and frustrations, and you'd like to turn your team in to a well-oiled machine.
Then, I'd like to help you bring out the best in your team by offering you a special, time limited, one-on-one "Get More From your Team Coaching Session."
During this session we will…
Create a crystal clear vision for the results that you want your team to produce, for the way that you'd like your team to interact with each other, and for the kind of people you would like to have on your team.
Uncover hidden challenges that may be sabotaging your success with leadership and team building.
You'll leave the session renewed, reenergized and inspired to create a powerful results-driven team that gets things done and works cooperatively together.
If you'd like to take advantage of this very special, time limited, one on one, and totally FREE 30 minute "Finding Your Ideal Job" coaching session, apply here